About Jacaranda Grove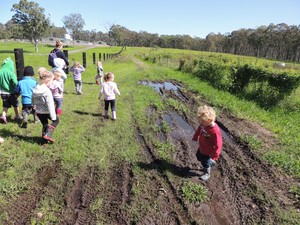 Jacaranda Grove Pre School is a privately owned and operated Pre School in Nelsons Plains (just near Raymond Terrace). We are licensed by the Department of Community Services and receive funding from the Federal Government in the form of Child Care Subsidy. The Pre School provides placement for 50 children per day between the ages of 2 and 6 years. Our centre is set on 20 acres and we have a farm yard at the rear of the Pre School, the children are able to tend to the chickens, collect the eggs and feed the sheep calves and goat. Part of our Pre School program is our bush kindy where we explore our back paddocks through regular bush walks.
Our Philosophy
At Jacaranda Grove, our Philosophy for Early Childhood Education, is to offer children, families and educators a learning environment that is safe, secure and supported, so that everyone feels the confidence to explore and learn. We acknowledge and value the importance of partnerships with families. Through these reciprocal relationships we can achieve goals, reach expectations and develop a true understanding of each child. At Jacaranda Grove, we believe we can provide an environment rich in quality learning experiences. Through a service dedicated to quality, we bring together the perfect place for children to learn, grow and gain life experiences with the ability to feel a strong sense of wellness and wellbeing.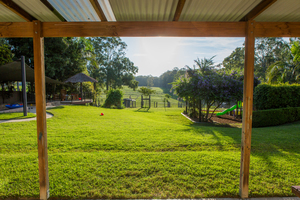 At Jacaranda Grove we believe parents play the most important part in each individual child's development. It is therefore our aim to form a good relationship with all parents and work together as a team to provide the best outcome for each child. We accept that all families are different and possess varying values and expectations, and we endeavour to meet these needs to the best of our abilities.
Our Centre
Here at Jacaranda Grove Preschool we believe children need room to be able to properly explore their surroundings and experiment with a variety of resources and equipment. We give all children the opportunity and encouragement to develop a greater understanding of their world around them and promote a respect for the environment in which they live. Our Pre School has been set up in the knowledge that children learn best through a play based learning approach in an environment which is flexible and includes intentional teaching. Small areas are designed to allow children to use all activities without interruption and allow children a high degree of autonomy in choosing the way in which they structure their time. Both the indoor and outdoor settings are set up with materials which are of interest and value to the children.